LIK NOTE
The strong composition of this pier draws you in like a magnet. On this clear, cloudless evening, Mother Nature presented something out of this world. Right at twilight, a magical glow was cast on the horizon. It looked just like a painting – the soft colors and gentle hues. A special three-camera multi rig was set up to make sure the entire scene was captured. Then, an hour after dusk, a whole new world opened up in total darkness. The cameras were completely dialed in, a long exposure of twenty seconds captured constellations and nebulae that the human eye could never see. Looking through this tunnel is like looking into another world, a world we know is out there – leaving only our imagination to complete the surreal beauty."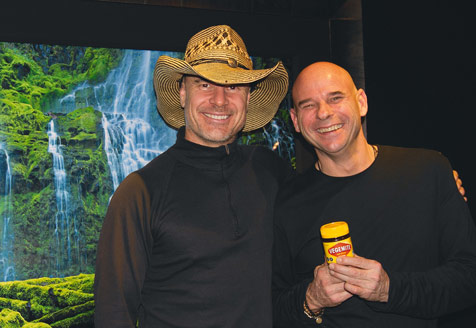 Thanks to a partnership with non-profit organization, ONE DROP™, a portion of the proceeds from A Sky Full of Stars will help bring sustainable access to safe water for communities worldwide.
"I am thrilled to partner with ONE DROP and I'm looking forward to an exciting future together!"
ONE DROP is an international non-profit organization created by Cirque du Soleil© founder Guy Laliberté in 2007. At the core of its mission is water as a transformative force to improve living conditions, as well as give communities the ability to care for themselves and their families. Sustainably.
For more information, visit onedrop.org

Zoom In
Please move your mouse over the image to see increased detail in the image.
Dark Ash 601 Convex w/ Black Liner

Dark Ash 601 Convex w/ White Liner

Dark Ash 601 Convex w/ No Liner

Cigar Leaf 601 Convex w/ Black Liner

Cigar Leaf 601 Convex w/ White Liner

Cigar Leaf 601 Convex w/ No Liner

Bourbon Inlay 601 Convex w/ Black Liner

Bourbon Inlay 601 Convex w/ White Liner

Bourbon Inlay 601 Convex w/ No Liner

Dark Ash 606 Concave w/ Black Liner

Dark Ash 606 Concave w/ White Liner

Dark Ash 606 Concave w/ No Liner

Cigar Leaf 606 Concave w/ Black Liner

Cigar Leaf 606 Concave w/ White Liner

Cigar Leaf 606 Concave w/ No Liner

Olive 606 Concave w/ Black Liner

Olive 606 Concave w/ White Liner

Olive 606 Concave w/ No Liner

Bourbon 606 Concave w/ Black Liner

Bourbon 606 Concave w/ White Liner

Bourbon 606 Concave w/ No Liner

Recess Mount

Stainless Steel Inner w/ Black Liner

Stainless Steel Inner w/ White Liner

Stainless Steel Inner w/ No Liner

Stainless Steel Outer w/ Black Liner

Stainless Steel Outer w/ White Liner

Stainless Steel Outer w/ No Liner

Stainless Steel Stack w/ Black Liner

Stainless Steel Stack w/ White Liner

Stainless Steel Stack w/ No Liner

3" Museum Mount Black Cube w/ Black Liner

3" Museum Mount Black Cube w/ White Liner

3" Museum Mount Black Cube w/ No Liner

1 5/8" Museum Mount Black Cube w/ Black Liner

1 5/8" Museum Mount Black Cube w/ White Liner

1 5/8" Museum Mount Black Cube w/ No Liner